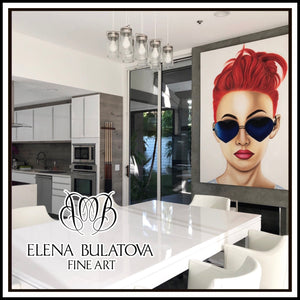 "How To Choose Art For Each Room Of Your Home"
How To Choose Art For Each Room Of Your Home
A well-styled, welcoming home is one that is full of art in each and every room. However, we completely understand that choosing artwork throughout your house can be a major undertaking. 
To guide you through the process of selecting art for every space in your home—from the dining room to the bathroom—Elena Bulatova will share with you some tips and tricks. You'll have a home for everything from that large abstract piece to those small sculptures in no time! 
BEDROOM
Your bedroom is your sanctuary and therefore is the place to get personal with art selections, 
 "In a primary bedroom, we find collectors have strong emotional connections to their selections of art, and so they are willing to invest," 
 "Sometimes we even commission an artist to do something special for a bedroom." Feel like thinking big here? Go for it! 
"Art is the soul of a space, so it's not the place to cut corners. Invest in large scale, one-of-a-kind pieces that make a statement." 
 "Make sure the colors go well with your bedding and accent pillows to create a harmonious atmosphere in the space."
LIVING ROOM
 "Consider varying subjects such as figurative works with still lives and abstracts," she says. Mixing different sizes is a key component, but no one piece should take center stage. Each piece should take equal importance. The area above the sofa is an excellent place to hang a singular, oversized piece." 
 "Get creative with a pop of color or keep things neutral but explore intense texture," 
"High-gloss pieces, so glass covered prints, or coated canvas for the dining or living room really let the dimmed light bounce around in a creative way." 
KITCHEN
Kitchen artwork certainly doesn't need to be second tier, though. "Fine art does not need to be confined to formal or off-limits rooms." 
 "The point of art is to live with it so that the pieces enhance and elevate your day to day. So, if you love a piece and want to ensure it receives the attention it deserves, placing it in your dining nook may be the way to go." 
"One of my most important pieces simply hangs in the kitchen, across from the island where you have coffee and breakfast each morning." 
DINING ROOM 
 Whether you use your dining room every day or once a month doesn't matter; this is the space in which to really get loud and colorful.  "A dining room is always our favorite room to design because you can go bold there, with art." We at Elena Bulatova Fine Art like to take risks in a dining area with oversized art, striking colors, bold graphics, and various mediums of art. "Pieces would be interesting enough as a conversation-starter, such as 3D art or something handmade, elaborate, and magical! 
The frame of the art piece is also quite important, and should not be plain. And if you wish to have some fun with sculptural pieces, by all means, go for it!  
 "Sculptural pieces are so fun. Get beyond the traditional framing styles and mix it up with beautiful 3D sculptures on your walls".  
 "These really bring the eye in and create lovely dialogue for those dinner parties." 
Bathroom 
The bathroom is more than just a utilitarian space; it should
also be aesthetically pleasing! When it comes to the bathroom,
selecting imagery with relaxing qualities is key, we encourage
our collectors to pick something soothing and tranquil. "Overall
serene tones and motifs are pleasing for that peaceful moment.
But if you feel like thinking a bit outside the box that's ok, too. 
"Find unique statement pieces that reflect your personal style,
antiques that have been shadow-boxed, collected pieces from your
travels, or artwork that makes your head tilt in thought a bit."
Abstract works can be wonderful, too. Generally, a 24 inch piece
of art fits perfectly over the toilet space and balances a wall where
you have a vanity and a toilet on the same wall.
Workspace 
Have a home office that you utilize every day? You're most definitely
not alone; the function of the study has changed greatly in recent years,
with more and more employees working from home. "Need a dose of motivation while you work? "In general, the office is a place to display inspirational pieces.  
 "Think of pieces that really give your mind space to rest: large prints
of outdoor spaces, seascapes, or abstracts with naturally occurring
colors found in nature," she suggests.
Outdoor Decor
"Having an outdoor area is one of the biggest perks of living in a house,
so it's only logical that you'll want to make it as relaxing and beautiful as possible. And there is nothing that can ennoble a place like art."
Elena Bulatova suggests something bright, big and bold. 
---