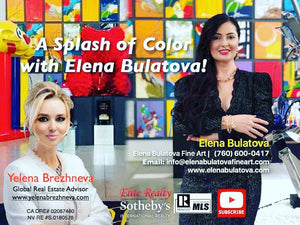 BEHIND HER ART - An interview of Elena Bulatova
Q: How did you develop that love of color that is so present throughout your art?
A: 
Color is very important in my work. When I moved to CA the main colors throughout were the colors of nature in a very neutral palette, lots of brown mountains and so my work was in gray & brown colors, inspired by the mountains. If you drive from Palm Springs to Vegas everything is brown. The bright colors are a celebration of life. Blue sky, bright beaches, colorful vegetation, and so my signature colors became orange and red. I also have a Rainbow Colors Series. Then I started my "Splash" series with ombre effects from yellow to orange and from orange to red.

Q: Your signature elements of popsicles and melting ice cream bring out the inner child and playfulness in people. How did you open that inner child's love of life and colors within you? Do you feel that as a new mom with 2 small children you'd take it to a whole new level?

A: 
I started my work with abstracts, I'm a Capricorn so it resembles my life, where I climbed up obstacles and started looking for new challenges and new achievements. After my abstracts were mastered and found a home with many art collectors, I began the melting popsicles series since we live in a hot climate and everything is always melting here. I started with melting popsicles in different colors, making them bigger, and created the melting ice cream series as well in Rainbow, Ombres, and other bright colors. I didn't have children then. Now I see my children with all that energy and playfulness and smiles and it helps me reflect that in my art. A lot of my collectors wanted an uplifting art piece with a spark of life! When they come to the gallery they begin smiling and are really happy to look at the art, it takes them away from their routine and for a moment transfers them into a different colorful universe.
Q: How many galleries do you have right now? Where can we find your art?

A: 
Many galleries in Florida and Los Angeles carry our art. Recently after Covid, we launched a lot of digital options for viewers to see. First of all, you can see our Instagram shop at @ElenaBulatovaFineArt. We also have all my work on our website 
www.elenabulatovafineart.com
. Currently, we have galleries in Palm Desert, Los Angeles, Las Vegas, and Canada. We ship worldwide and are expanding our digital footprint so we are not limited by geography. You can see us in Hong Kong or New York with the launching of our virtual gallery experience.
Q: I know you are always looking forward to embracing modern technologies and innovations. Back in 2017, you were the first gallery in Vegas to accept Bitcoin and other digital currencies. How are you developing further in that direction?

A: 
We are coming from the Coachella Valley Music & Arts Festival  right now where we launched our first NFT Exhibit. 


The Gift of Sight Digital Art Collection consists of landscape images donated that people find beautiful or inspiring — and then digital artists overlay filters that represent visual impairment.  
The collection is an expression of living with visual impairment.


Q: I know you as a person that invests in personal growth, you are always learning. Where do you see yourself developing now that you are in this part of life as a mother, as a parent?

A: 
Efi, my husband and artistic business partner, and I dedicated the last 3 years to our children. Efi is always working on creating new projects, even more than me. For example, we both are artists, but work in different forms of expression. I started back in the days with abstracts, then moved on to the WSJ Series where art is created on top of used newspapers with different characters, superheroes, and famous people. Then I moved into large-scale sculptures of lollipops and melting ice creams. Recently, I created a new series of inspirational LED art with positive affirmations like "You Are Beautiful" and debuted a new pop-art sculpture called "Life is a Game" at the Madison Club for Coachella Valley Music & Arts Festival.
Efi comes up with more art concepts than me and I'm very excited for him and his new projects. We are dedicated recyclers and love experimenting with different materials to help save the planet. Efi recently started working with recycled metal barrels. Efi has his own line of Black & White Line Up series art creating faces of famous celebrities. We both have around 10 lines of different art concepts. We are creating new concepts all the time and are not stuck doing only one thing and keep revamping old art and taking that to a new level.


Q: What gives you the most pleasure in your work?

A: 
When people are finding just the right piece of art and have the biggest and happiest smile on their faces, that is the most rewarding to me. I see that people spend a lot of time thinking about what piece should go in their homes
and they tell me they've had empty walls for several years and now they finally found what to place on that wall, and when we can create that custom dream art piece upon their request that gives me & Efi the biggest pleasure. Helping people fulfill their dreams!
Q: Could you share with us some interesting high-profile projects that you worked on?
A: We have had many projects like that and it's hard to select one. One that comes to mind right away is a  project with Tim Cook in La Quinta, we decorated a whole house while working with a builder on that. He moved into the house with our art but then wanted to have more custom art and it was very exciting to continue working with him in person. I also worked just recently with Michelle and Anthony Zuiker, the creator of CSI. I know the singer Maluma has one of my Lollipops as well. My art has been in more than 30 Hollywood & Netflix Shows. The latest show is Inventing Anna, red Lollipop 12 ft. My 7 feet melting popsicle was also on the Big Brother Show. I created a popsicle for the largest ship in the world, Royal Caribbean. The list goes on.
Q: How do you manage to balance being a new mom of 2 beautiful children and all these creative projects

A: 
It's always a work in progress. It's important to have support, to have a great nanny, my son Liam started his pre-school so that's a great help. Children are my priority. I breastfed my son till he was 2 years old. Now I'm breastfeeding my little princess, Anna Bella. I believe this is the most important thing for children to have the healthiest start with breastfeeding. I love having a flexible schedule as I get to spend time with my children and also work. My husband is also very involved and is helping a lot.


Q: What do you like the most in your husband's artwork as an artist?

A: 
Efi creates very architectural pieces, lots of 3D art, and installations. His father was a welder and he was always very handy but also had a vision. He was an interior designer for 20 years. Sometimes I think he has more vision than me!
Q: How do you inspire each other?

A:
We inspire each other to share our artistic vision.
I started my art in 2011 and as a beginning artist you need a lot of feedback and guidance. He supported me a lot and gave me a healthy dose of criticism that I didn't like sometimes. Eventually, I received a lot of recognition, and my art was sold around the world, and I gained my own voice in Art. When we opened a gallery and we had a lot of empty space on the walls we saw lots of places for expression.


Q: How do you like your Art Gallery location at Crystals Shops, City Center
We've lived in Veer Towers for 7 years now. I love the Shops at Crystals, I was 32 when we opened our first gallery here. I'm so proud to be part of City Center. It's a trademark of excellence and perfection. Our gallery is located between Cartier & Van Cleef & Arpels. It's so exciting to be located next to some of the most recognized brands in the world that have survived through World War II and have a tremendous amount of history behind them. I'm happy to bring quality art for the most exclusive and selective clientele.
---